About the Conference
Polymer Chemistry 2023 gives a creative research area in motivating young ones in developing research fields and provides cutting edge technology for massive innovations. Polymer Chemistry 2023 covers an in-depths area of science at micro and macro level thus helping to learn about synthesis, characterization, properties and numerous other benefits of polymer, including branches mimicking physical, chemical, biological and analytical options of chemistry. Meet notable personalities all under one common platform for sharing ideas by exclusive scientists, passionate researchers, and prestigious delegates across the globe. We are looking further to current meeting success by bringing revolution in the field of polymer science through sharing your concepts, views, and experiences of research work under one roof for a more robust world.
Why to attend?
You have a chance to meet targeted Business experts leading market in present time frame concentrated on finding about new technologies and fields related to Polymer science, providing great opportunity. Conduct exhibitions, disperse data, meet with current researchers and gather their acknowledgment in particular occasion. Widely praised speakers, latest methods, strategies, up to date overhauls in

Polymer science

and Engineering are focused in conference.
Welcome message
We are honoured and delighted to welcome all eminent scientists, eloquent academicians, young researchers, business delegates and students to "11th World Congress on Bio-Polymers

and

Polymer Chemistry"

was scheduled on November 15-16, 2023 at Dubai, UAE, towards the theme "

Exploring Recent Advances and Applications in Polymer Chemistry

".

We hail you all to be part of us at the
"
Polymer Chemistry 2023
"
an arena where you will be certain to have a necessary involvement with researchers from around the globe. Unique response and dynamic interest of the Young Researchers and in the presence of our eminent Delegates, scientists around the globe would be benefited by receiving a global platform to present their journals and views on the same in front of eminent researchers, scientists, and pioneers in the discipline of Polymer Chemistry will make this gathering one of the exceptional and overwhelming experience of 2023.
Sessions and Tracks
Polymer Engineering

is an engineering field that designs, analysis, and modifies polymer materials. Polymer Engineering covers features of the petrochemical industry, polymerization, structure and characterization of polymers, properties of polymers, compounding and processing of

polymers

and description of major polymers, structure property relations and applications. Polymer processing technologies are the processes in which monomer are converted into a finished product via chemical reaction, shaping, compounding, and so on.
Processing Techniques:
· Extrusion
· Injection molding
· Blow molding
· Compression molding
· Thermoforming
· Rotational molding
· Casting
A

polymer

nanocomposite contains a polymer or copolymer having nano particles dispersed in the polymer matrix. Polymers provide protection to the active molecules to the delivery site; especially through the gastrointestinal tract. In generally, natural polymers are nontoxic, biocompatible, and biodegradable. Polysaccharides and proteins are the frequently used wall materials for the fabrication of polymeric

nanoparticles

.
Applications of nanotechnology:
· Industrial
· Medicinal
· Energy uses
Biopolymers
are natural polymers built by the cells of living organisms. Biopolymers are made up of monomeric units that are covalently bonded to form larger molecules. Polynucleotides, like RNA and DNA, are long polymers composed of 13 or more nucleotide monomers. Bioplastics are plastic materials produced from renewable biomass sources, including vegetable fats and oils, corn starch, straw, woodchips, sawdust, recycled food waste, etc. Bioplastics are thermoplastics obtained from a bio-based source, such as sugar, seaweed or starch. Biopolymers are the wide range of materials that include bioplastics, but that also includes natural polymers such as silk, chitosan and wool. Bioplastics are thermoplastics obtained from a bio-based source, such as sugar, seaweed or starch.
Biopolymers
are the broad class of materials that include bioplastics, but that also includes natural polymers such as silk, chitosan and wool. Biopolymers include proteins, genetic material, glycoforms, metabolites, and other structural molecules.
The three types of biopolymers:
· Polynucleotides
· Polypeptides
· Polysaccharides
Polymer Science
is an area of research of materials science concerned with polymers, primarily synthetic polymers such as plastics and elastomers. Polymer Science also includes researchers in multiple disciplines including chemistry, physics, and engineering. Polymers are made up of the materials in living organisms and are the basis of many minerals and man-made materials. The biomedical applications of polymers include the evolution of prosthetic materials, implants, dressings, dental materials and other disposable supplies.
Polymers
are also used in the preparation of controlled release drugs, manufacturing of contact and intraocular lenses, etc. Industrial market polymer applications are automobile parts, windshields for fighter planes, pipes, tanks, packing materials, insulation, wood substitutes, adhesives, matrix for composites, and elastomers.
Polymer Applications:
· Clothing
· Floor coverings
· Garbage disposal bags
· Packaging
Polymers
are one of the most stirring technologies in chemistry today and suitable for a wide range of applications, polymers are literally the building blocks of our lives and also give support, structure, and durability to thousands of products we interact with each and every day. Advancements in polymer technology have the future to revolutionize medical treatment, space travel, fuel consumption, and more. The scientists have developed a new way to design mechanically stable, conductive polymer hydrogels. The products made from polymers are all around us: clothing made from synthetic fibers, polyethylene cups, fiberglass, nylon bearings, plastic bags, polymer-based paints, epoxy glue, polyurethane foam cushion, silicone heart valves, and Teflon-coated cookware.
Recent advancements:
· Biomass-Derived Isoprene
· Multi-Functional and Self-Healing Hydrogel
· Stickier Super Glue
Polymer Electronics
is an emerging technology that focuses on the development of electronic devices including electrically conductive and semi conductive organic materials, especially organic polymers. And it offers the prospect of an advanced electronics platform using new materials, processes and electronic devices.
Polymers Electronics:
· Optics
· Fiber
· Lasers and Photonics
Polymer Physics

is the field of physics that studies polymers, their oscillations, mechanical properties, also the kinetics of reactions involving degradation and polymerisation of polymers and monomers respectively.

Polymers

are materials of long, repeating chains of molecules. The materials have unique properties, depending on the type of molecules being bonded and how they're bonded. Many physical techniques are used in the study of hard polymers and some, such as NMR spectroscopy, can give information about a wide variety of features of the structure or properties.
· Polymer Dynamics
· Thermoplastics
· Thermosets
· Elastomers
Polymer

has appeared as an active discipline of modern Science and Technology, which has more demand in education and employment markets. The recent developments of

Polymer Technology

have transformed the field of material science increasing the use of polymer based substances from building materials to packing materials, fancy decoration articles, electrical engineering, automobile, aircrafts, etc. And it focuses on the concepts related to the production and use of Polymers.
Methods of Polymer Technology-
· Extrusion
· Injection molding
· Pultrusion
· Filament winding
Polymer, any of a class of natural or synthetic substances composed of very large molecules, called macromolecules that are multiples of simpler chemical units called monomers. Polymers make up many of the materials in living organisms, including, for example, proteins, cellulose, and nucleic acids. Biochemistry began with studies of substances derived from plants and animals. Biological polymers are large molecules composed of many similar smaller molecules linked together in a chain-like fashion.
· Natural Polymers
· Synthetic Polymers
Materials Science

is a multidisciplinary field concerned with the understanding and application of the properties of matter. Materials Scientists study the connections between the underlying structure of a material, their properties, processing methods and its performance in applications. Materials Science still includes elements of physics,

chemistry

, and engineering.
Materials can be classified into the following groups:
· Metals
· Polymers
· Ceramics
· Composites
Medical Polymers

are used for a variety of human contact and non-contact requisitions in the medical industry. These materials are mainly used in the manufacture of medical implants like medical devices, disposables and packaging. Polymers are mostly made from monomers derived from the petrochemical industry, including ethylene, propylene, styrene, terephthalic acid, ethylene oxide, caprolactam, adipic acid, and hexamethylene diamine.

Synthetic polymers

have been used for many years in the biomedical field because of their valuable and adjustable characteristics like biocompatibility, biodegradability, good mechanical properties, etc.
Types of polymers used in medicine-
· Silicon Polymers
· Polymethyl Methacrylate
· Polyvinyl Chloride
· Polylactic Acid Polymer
· Poly glycolic Acid Polymer
· Polymer Rubber
Market Analysis
Bioplastics & Biopolymers Market Size by Type (Non-Biodegradable/Bio-Based, Biodegradable, and others), and End-Use Industry (Packaging, Consumer Goods, Automotive & Transportation, Textiles, Agriculture & Horticulture, and others): Global Opportunity Analysis and Industry Forecast, 2021–2030. The global bioplastics & biopolymers market size is estimated to increase from USD 10.7 billion in 2021 to USD 29.7 billion by 2026, at a CAGR of 22.7% between 2021 and 2026.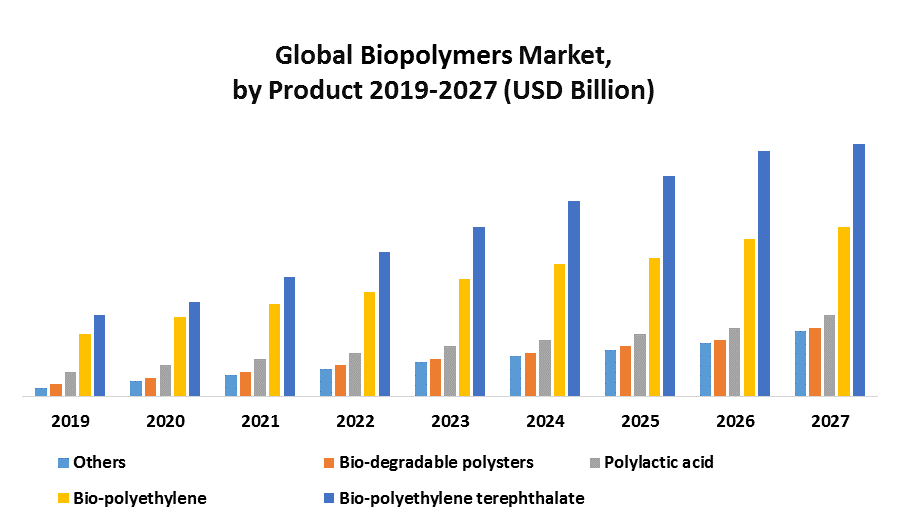 The growth of bioplastics from numerous end-use segments, stringent regulatory & sustainability authorizations, and growing concerns for the environment is driving the market for bioplastics & biopolymers. Bioplastics and biopolymers used in various industries, like packaging, consumer goods, automotive and transportation, textiles and agriculture & horticulture.